Sorry (Really Sorry) (Hardcover)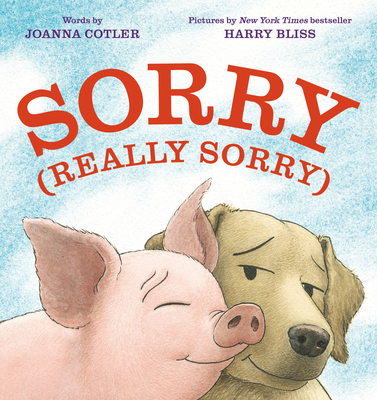 $17.99
Usually Ships in 1-5 Days
Description
---
* "Clever, funny, and true--really."-- Kirkus Reviews (starred review)

* "The animals, rendered expressively by Bliss, learn what kids already know and adults too easily forget: the capacity to say "I'm sorry"--and mean it--is no small thing."--PW (starred review)

A sweet and thoughtful picture book about how one act of kindness can change the world, written by publishing legend Joanna Cotler and illustrated by New York Times bestseller Harry Bliss.

Cow was in a nasty mood. When Duck came along Cow kicked mud in her face.
"Why'd you do that?" asked Duck.
"I felt like it," said Cow. "And I'm not sorry."

Little did Cow know that her bad mood would spread to the whole farm. But it does when Cow passes her anger along to Duck who takes it out on Frog who is mean to Bird who upsets Goat who bothers Pig. Until good-hearted Dog turns things around by showing kindness to Pig, turning not sorry into sorry (really sorry). But will that be enough to mend all of the hurt feelings on the farm?

With a charming text by Joanna Cotler and beautiful artwork by New York Times bestseller Harry Bliss, this is a picture book about the power of reactivity and how to diffuse it with love. Being sorry (really sorry) can make a world of difference and make your world different too.
About the Author
---
Joanna Cotler is a writer, an artist and a children's book editor. Although she lives in New York City with her husband, sometimes she wishes she lived on a farm where she could commune with a pig or a duck or a cow.

Harry Bliss is an internationally syndicated cartoonist and cover artist for the New Yorker magazine. His syndicated comic 'Bliss' appears in newspapers internationally. He has written and illustrated over 20 books for children and is the founder of the Cornish Fellowship for Graphic Novelists in Cornish, New Hampshire. He is currently working with comedian/musician Steve Martin on a book of cartoons.
Praise For…
---
*"An exploration of the repercussions of a bad mood could have turned into a pedantic moral tale, but Cotler and Bliss' light touch and humorous approach offer insight without judgment. Clever, funny, and true—really." --Kirkus Reviews (starred review)

*"At the farm where author and children's book editor Cotler and artist Bliss's emotionally honest story is set, bad moods aren't just contagious—they're epidemic . . . .The animals, rendered expressively by Bliss, learn what kids already know and adults too easily forget: the capacity to say "I'm sorry"--and mean it--is no small thing."--PW (starred review)

"Cotler's story is a simple yet valuable one, an excellent example for young readers, and a nice reminder for older readers that kindness goes a long way....a smart choice for any collection."--SLJ