A Compendium of Christian Theology: Being Analytical Outlines of a Course, Vol. 1 (Paperback)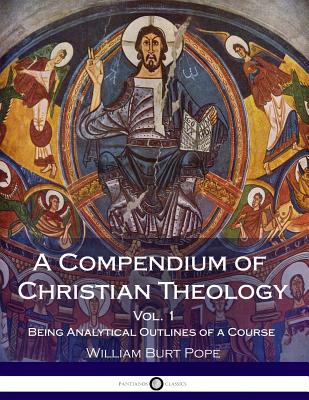 $18.89
Email or call for price.
Description
---
The first volume of William Burt Pope's finest work sees the author define what theology is, the core principles of faith and belief in God, and the attributes of the Divine.
A stunning compendium of study spanning three volumes, A Compendium of Christian Theology is the masterwork of William Burt Pope. After many years spent studying various separate and divergent texts, each of which contained their own value and insight, Pope desired to unite and present these ideas - some of which spanned millennia of religious thought - into a single resplendent and informative work.
Arranging his study in a sensible manner, Pope commences by defining the basics of Christianity: the nature and attributes of the divine, the tenets of human faith towards Him, and the qualities of religious inspiration and God's creation that all Christians believe in. The drier and more cryptic aspects of religious study are elucidated; the author, already a teacher with over a decade of experience, covers each subject with fine instructional clarity.
This core thesis is then delved into: topics such as sin and straying from the path of the Lord, redemption and atonement of the soul, and the personhood of Jesus Christ are discussed. The notion of salvation and ascendance of the believer to heaven, and the gaining of an affinity with the Holy Spirit, are likewise detailed.
Latterly in the third volume, Pope details the Christian idea of sanctification and the ethics that each follower must practice in day-to-day life. How the Christian church operates and was organized is also looked at. Appropriately, Pope concludes his book work with an examination of eschatology - the manner in which a soul traverses death and is judged in the afterlife, before heading for its final destiny.
Somewhat uniquely for a book of Christian scholarship, Pope included a list of relevant Biblical citations in each lesson. These abbreviated listings help readers understand how Pope relied upon the Bible as a source text, that they may follow the author's thinking and confirm its validity.
William Burt Pope was a Methodist academic, theologian and lecturer who spent much of his life resident in England. Distinguishing himself in the mid-19th century as a talented linguist and translator of Germanic Christian books and documents, it was in the 1870s that the author used the accumulation of decades of knowledge and study to create his Compendium of Christian Theology.
This and other texts would supplement Pope's theological tutelage; he was a respected teacher at Didsbury Wesleyan College near the city of Manchester, England. Brought up in the Methodist tradition, Pope nevertheless believed in the ecumenical cause; this all-embracing work, relevant to Christians of any denomination, being the greatest testament to his belief in the devotional unity of the ancient teachings and lore.