Cursed!: My Devastatingly Brilliant Campaign to Save the Chigg, a YA Detective Novel (Paperback)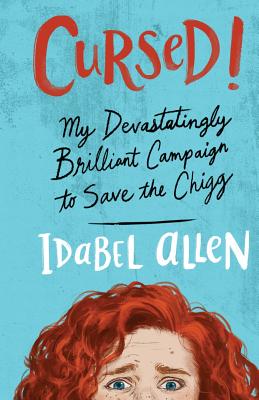 $15.99
Usually Ships in 1-5 Days
Description
---
Hey, hey, Lady Godzilla, don't burn me with your fire lizard breath
And so begins this epic mortal frenemies adventure...
14 year old Ginny, The creative girl genius and future award-winning zombie movie screenwriter/director/producer assured her parents she was older now and more mature. There would be no more outbursts in class or trips to the principal's office... no more food fights.
Of course, Ginny has no intention of following through with these promises. And when her friends abandon her after an ill-fated adventure, her eighth grade year goes straight down the pooper. That's when Ginny sets about befriending eighth grade's freakazoid #1 - Carrie "Chigger" Larson - whether the clown-haired sourpuss likes it or not
An outcast with a dark family history, the Chigg reluctantly turns to Ginny and an insulting Indian soothsayer to unlock the mysteries of the Larson Curse believed to be responsible for the death of Chigger's father. The devastating truth they uncover not only threatens their friendship but their very lives
Will 8th grade be Ginny Edgar's best year ever? Does Ginny have what it takes to help Chigger put an end to the Larson Curse and discover the true meaning of friendship, all while writing the most zomborrific movie screenplay of all time? Find out in Cursed, a heart-warming and hilarious young adult mystery novel that both junior high girls and middle school boys will not be able to put down.