Last Pick (Paperback)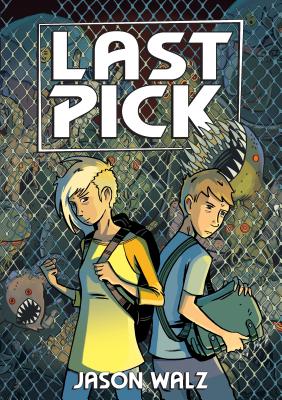 Other Books in Series
This is book number 1 in the Last Pick series.
Description
---
In this first volume of Jason Walz's dystopian graphic novel trilogy, the kids last picked are humanity's last hope.

Three years ago, aliens invaded Earth and abducted everyone they deemed useful. The only ones spared were those too young, too old, or too "disabled" to be of value. Living on Earth under the aliens' harsh authoritarian rule, humanity's rejects do their best to survive. Their captors never considered them a threat—until now.

Twins Sam and Wyatt are ready to chuck their labels and start a revolution. It's time for the kids last picked to step into the game.

A YALSA Recommended Reading Great Graphic Novel
A 2020 Texas Maverick Graphic Novel

About the Author
---
Jason Walz is a comic creator and teacher working in Minneapolis, Minnesota. Born in the south, he bounced around between Kentucky and Tennessee before working his way up north. He is best known for his debut graphic novel Homesick, which was nominated for a 2014 Eisner. He followed that up with the creation of an online comic series called Crap Shoot where he worked with some of today's biggest comic creators. A Story for Desmond is a bedtime story about loss and the gifts left behind by those who are gone.

Jason's three-book series called Last Pick pulls from his desire for his children to grow up reading about a diverse world full of young people exceeding the expectations others may place on them.
Praise For…
---
A Kirkus Reviews Best YA Science Fiction of 2018 Selection

"Walz's art is accessible and deceptively simplistic, caught between being realistic and cartoony. It will appeal to kids who've come to love cartoons that have many of the same messages, from Steven Universe to Gravity Falls." —Paste Magazine

"A masterful sci-fi tale with relatable characters, skillful worldbuilding, and cinematically designed illustrations that convey his message."—Kirkus Review, starred review

"Strong character development, atmospheric art, villainous aliens, snappy banter, cheerworthy protagonists, and well-executed suspense should give this lots of broad appeal." —Booklist, starred review

"Messages about valuing all humans (from an author's note: "Whatever the world sees as 'different' is exactly what the world needs") add meaningful layers to this fast-paced adventure featuring a cast of likable heroes and creepy, memorable aliens." —Publishers Weekly

"An action-packed story with compelling art and dialogue and a cliff-hanger ending . . . A strong pick for reluctant readers. Give to fans of Margaret Peterson Haddix's 'Shadow Children' series or Mark Siegel's '5 Worlds' books." --School Library Journal

"The story stands out in asking readers to consider that 'the world often has a narrow view of what success looks like.' This fun and thematically meaningful comic would be a great addition to classroom and library shelves." —VOYA Magazine

"With Last Pick, Jason Walz has created a beautifully crafted science fiction graphic novel that is heartfelt, filled with endearing characters, and all too timely." —New York Times bestselling author Jeff Lemire