Thicker Than Water (Paperback)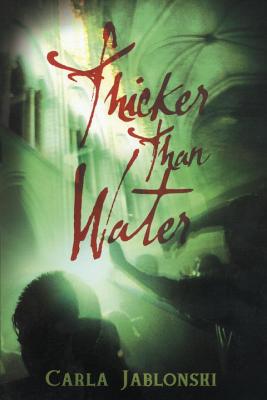 Description
---
Seventeen-year-old Kia barely survived her parents' divorce several years ago. Now her mom is in the hospital battling cancer and Kia is stuck with her workaholic father, leaving her searching for an escape from the everyday horrors of her life.
 
She finds this escape with a group of people acting out a dark fantasy. These "vampires" spend all night in dark clubs, wearing gothic outfits, and even baring fake fangs. But when Kia meets Damon, she begins to wonder if maybe a true vampire exists among them, one who could be the answer to all of her problems.
About the Author
---
Carla Jablonski is the author of dozens of best-selling middle-grade and young adult novels, writing under many names. She is the award-wining author of the graphic novel trilogy RESISTANCE (First Second Books), drawn by Leland Purvis. Her two YA novels for Razorbill, Thicker than Water and Silent Echoes, were both selected for the prestigious NYPL Books for the Teenage List. Among her many publications, she has written choose-your-own-adventure style books for Disney Press (most recently, A Matter of Time, based on the Tim Burton film), adapted Neil Gaiman's Books of Magic comics as YA novels for HarperCollins, and created the two series, Digital Detectives (Running Press) and The Zombie Squad (Scholastic). She has been a writer-in-residence at the Millay Colony and Blue Mountain Center, a participant at Breadloaf and the Zoetrope All-Story conferences, and taught writing for middle-grade and young adult readers for MediaBistro. She is a graduate of Vassar College and has a master's degree from NYU. A former trapeze artist, an actor, and a singer, she lives in NYC.