The Story Factor: Inspiration, Influence, and Persuasion through the Art of Storytelling (Paperback)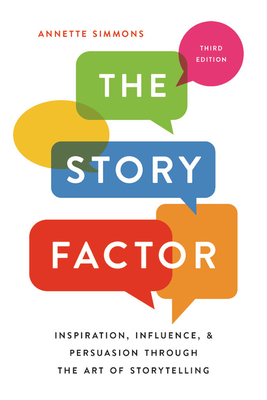 $17.99

Usually Ships in 1-5 Days
Description
---
Fully revised, updated, and expanded, this modern classic will teach you to use the art of storytelling to persuade, motivate, and inspire in life and business
Anyone seeking to influence others must first know their own story, and how to tell it properly. Whether you're proposing a risky new venture, trying to close a deal, or leading a charge against injustice, you have a story to tell. Tell it well and you will create a shared experience with your listeners that can have profound results.
In this modern classic, Annette Simmons reminds us that the oldest tool of influence is also the most powerful. Fully revised and updated to account for new technology and social media, along with two new chapters on the role of stories in the development of civilization and how to adjust your story to your specific goal, Simmons showcases over a hundred examples of effective storytelling drawn from the front lines of business and government, as well as myths, fables, and parables from around the world. Whether writing a screenplay, or announcing a corporate reorganization, Simmons illustrates how story can be used in ways that cold facts, bullet points, and directives can't. These stories, combined with practical storytelling techniques, show anyone how to become a more effective communicator and achieve their goals.
About the Author
---
Annette Simmons is founder of Group Process Consulting, specializing in helping organizations build more collaborative behaviors for bottom-line results. A popular speaker, community activist, and author of Territorial Games and A Safe Place for Dangerous Truths, she lives in Greensboro, North Carolina.
Praise For…
---
"Annette Simmons was my guiding star when I was looking for
a way to work with stories. The Story Factor paved the way for me to do
rewarding work building communities and broadening education. With this third
edition Annette proves once again that her knowledge and insights are alive and
more relevant than ever."
—
Peter Frühmann, Founder of Storybag.nl
"
The Story Factor
remains required reading for anyone working at the intersection of communication and culture. For better or worse, the future requires storytellers willing to imagine what is truly good for humans and wield their power thoughtfully. I'm grateful that Annette's wonderful book is confronting the ethical aspects of the stories we tell. I hope that many will pick it up and do the same!"—
Zack Bryant, Creative Director, Journey Group
"After 20 years of reading every book
written on storytelling, the Story Factor still stands out as the most
comprehensive, the most inspiring and the most useful of any book I've found.
This new release includes a much-needed deep dive into the morals and
responsibilities of storytelling. The Story Factor is not only a book you need,
it's a book that the world desperately needs."
—
LisaBloom, Founder, Story Coach
"Simmons beautifully captures the
role stories play in solving human problems. Her invitation to expand our
circle of moral concern through storytelling gives hope for restoring our
social fabric in divided times."
—
Jesse Scinto, Lecturer and FulbrightU.S. Scholar MS Programs in Strategic Communication,Columbia University
"We in the story
listening/story sharing business have many sages, many authorities, many folks
that give us new and effective ways to stir the pot of story into something
delicious, but we have only one encyclopedia of story, her name is Annette
Simmons."
—
Joe Lambert, Chief Listenerand Convener, StoryCenter
"Nearly two decades ago, Annette Simmons sent a shockwave through the world of leadership thinking with a curious proposition: That by telling stories, a leader might exercise deep influence. She's back, surveying the industry that has grown from her groundwork, and her message in this updated edition is more fierce and more urgent than ever before:
As weavers of narratives, ours is a deeply moral calling that carries great responsibility.
Simmons' voice is more essential, prophetic, and convicting than ever. Her message demands our attention."—
David Hutchens, Leadership Storytelling
"Re-reading my dog-eared, marked-up copy of
The Story Factor
makes me nod my head in both agreement and epiphany. In this new edition, she holds supreme as our most important thinker in applied narrative."—
Thaler Pekar, Thaler Pekar &Partners
"Twenty years ago when it was first published, this book became an instant classic and spotlighted Annette Simmons as one of the pioneers of organizational storytelling. Now she updates and expands her foundational work, offering us a strong voice on behalf of staying awake to both the power and the pitfalls of story work. In this time of competing and conflicting narratives, where the future of our world hangs in the balance,
The Story Factor
continues to chart a path for everyone who seeks to influence with integrity."—
Mary Alice Arthur, Story Activist (www.getsoaring.com)and co-founder of Story the Future (www.storythefuture.com)
"Once again internationally recognized genius in business
storytelling, Annette Simmons, captivates us with her writing, her wisdom, and
her deep understanding of the human spirit. She takes us on a journey about the
critical importance of storytelling and how to do it filled with sage advice,
wonderful stories, and practical how-to. If you want to be a better leader or
manager, with better business results, follow Annette's wisdom. You'll be glad
you did."
—
Dr. Karen Dietz, co-author Business Storytelling for Dummies