The Librarian of Auschwitz (CD-Audio)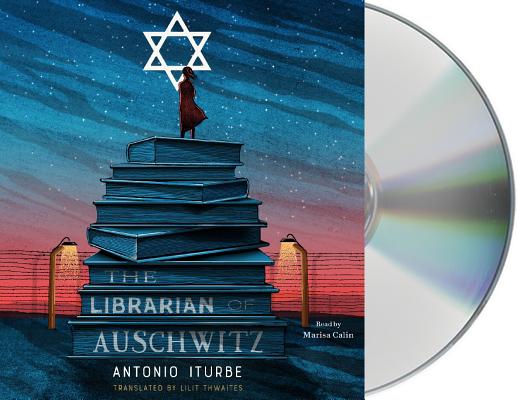 Description
---
*Recommended by Parents' Choice*

This program features an author's note read by Dita Kraus.

Based on the experience of real-life Auschwitz prisoner Dita Kraus, The Librarian of Auschwitz is the incredible story of a girl who risked her life to keep the magic of books alive during the Holocaust.

Written with touching sensitivity by Antonio Iturbe, and translated by Lilit Thwaites, this audiobook provokes every emotional response and will not be forgotten.

Fourteen-year-old Dita is one of the many imprisoned by the Nazis at Auschwitz. Taken, along with her mother and father, from the Terezín ghetto in Prague, Dita is adjusting to the constant terror that is life in the camp. When Jewish leader Freddy Hirsch asks Dita to take charge of the eight precious volumes the prisoners have managed to sneak past the guards, she agrees. And so Dita becomes the librarian of Auschwitz.

Out of one of the darkest chapters of human history comes this extraordinary story of courage and hope.

This title has Common Core connections.
About the Author
---
Antonio Iturbe is a novelist and journalist. He interviewed Dita Kraus, the real-life librarian of Auschwitz, for The Librarian of Auschwitz.

Marisa Calin is an actress, narrator, and novelist born in England and educated in New York at the American Academy of the Dramatic Arts. An artist with a flair for everything literary, she has written a young adult novel, You & Me, which received a Kirkus Starred Review, and has narrated the audio books Ruby Red and Sapphire Blue by Kerstin Gier.

Lilit Žekulin Thwaites is an award-winning literary translator. After thirty years as an academic at La Trobe University in Australia, she retired from teaching and now focuses primarily on her ongoing translation and research projects.
Praise For…
---
"This powerful young adult novel introduces listeners to 14-year-old Dita Kraus, a Czechoslovakian Jew who, with her parents, was sent to Auschwitz in December 1943. Through meticulous research, including multiple correspondences with Dita, Antonio Iturbe paints an accurate picture of life in Auschwitz in all its horror. Marisa Calin's narration straightforwardly tells this chilling but ultimately inspiring story with an unemotional delivery that emphasizes the amazing strength, hope, and courage that sustained the prisoners of Auschwitz in the face of incredible inhumanity and deprivation." -AudioFile

"Marisa Calin does a fine job narrating a heart-wrenching story told entirely through the observations of an innocent young girl. And [Antonio] Iturbe's proclivity for creating suspense will keep you listening. The book also qualifies as riveting and valuable reading for young adults." - Inside Jersey

"Narrator Marisa Calin provides an understandable, yet well-accented dialogue of Jewish, Polish, and German voices for the participants in this novel. A shocking, moving, unforgettable, yet wonderful story, this book carries a powerful message of a dark period of world history. The Librarian of Auschwitz should be required reading for every high school student and adult." -SoundCommentary

"an unforgettable, heartbreaking novel." —Publishers Weekly, starred review, on The Librarian of Auschwitz

"Like Markus Zusak's The Book Thief, it's a sophisticated novel with mature themes, delivering an emotionally searing reading experience. An important novel that will stand with other powerful testaments from the Holocaust era." —Booklist, starred review, on The Librarian of Auschwitz

"This novel is one that could easily be recommended or taught alongside Elie Wiesel's Night and The Diary of Anne Frank and a text that, once read, will never be forgotten. VERDICT A hauntingly authentic Holocaust retelling; a must for YA collections." —School Library Journal, starred review, on The Librarian of Auschwitz

"Though no punches are pulled about the unimaginable atrocity of the death camps, a life-affirming history." —Kirkus Reviews, starred review, on The Librarian of Auschwitz