Embrace (Paperback)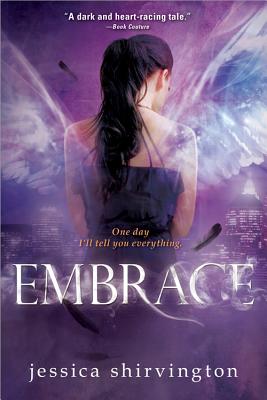 $15.99
Usually Ships in 1-5 Days
kids Kids Indie Next List
---
"Violet Eden has never had an easy life. Uprooted from her school, she slowly and shyly begins making new friends, including the gorgeous Lincoln. Life is looking up until she discovers that she is part angel and must make the choice to embrace her destiny or forever live in fear, running from those who want her dead. Violet must decide her own destiny and in the process hope to uncover the secrets that seem to be all around her. An exciting read with an original twist on angel mythology"
— Emily Grossenbacher, Lemuria Bookstore, Jackson, MS
Description
---
Two Choices: Angel or Exile. Lincoln or Phoenix. The wrong choice could cost not only her life, but her eternity.
It starts with a whisper: "It's time for you to know who you are..."
On her 17th birthday, everything will change for Violet Eden. The boy she loves will betray her. Her enemy will save her. She will have to decide just how much she's willing to sacrifice.
A centuries old war between fallen angels and the protectors of humanity chooses a new fighter. It's a battle Violet doesn't want, but she lives her life by two rules: don't run and don't quit. If angels seek vengeance and humans are the warriors, you could do a lot worse than betting on Violet Eden.
LINCOLN: He's been Violet's one anchor, her running partner and kickboxing trainer. Only he never told her he's Grigori--part human, part angel--and that he was training her for an ancient battle between Angels and Exiles.
PHOENIX: No one knows where his loyalties lie, yet he's the only one there to pick up the pieces and protect her after Lincoln's lies. In a world of dark and light, he is all shades of gray.
The Embrace Series:
Embrace (Book 1)
Entice (Book 2)
Emblaze (Book 3)
Endless (Book 4)
Empower (Book 5)
Praise for Embrace:
In her YA paranormal romance debut, Jessica Shirvington combines "the badass-action of Vampire Academy, the complex love triangles of Twilight, and the angel mythology of Fallen, taken one step further." --Book Couture
"Shirvington's debut is smart, edgy and addictive--and sure to leave readers clamoring for the rest of the series."-- Kirkus Reviews, STARRED
"One of the best YA novels we've seen in a while. Get ready for a confident, kick-butt, well-defined heroine." -- RT Book Reviews
About the Author
---
How many of us can say we fell in love in high school? A lot of us. But how many of us stayed in love with the same person? Jessica Shirvigton has been lucky enough to marry the man she fell in love with at seventeen, Matthew Shirvington--Olympic sprinter, five-time national 100m champion, and current sports personality with Australia's Foxtel and Sky News. Jessica and her family live outside Sydney, Australia, where she is currently working on the next book in the Embrace series.