Definitions Of Indefinable Things (Paperback)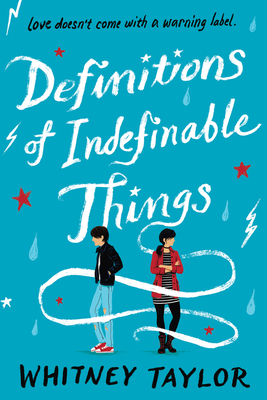 Description
---
Reggie isn't really a romantic: she's been hurt too often, and doesn't let people in as a rule. Plus, when you're dealing with the Three Stages of Depression, it's hard to feel warm and fuzzy. When Reggie meets Snake, though, he doesn't give her much of a choice. Snake has a neck tattoo, a Twizzler habit, and a fair share of arrogance, but he's funny, charming, and interested in Reggie.

Snake also has an ex-girlfriend who's seven months pregnant. Good thing Reggie isn't a romantic.

Definitions of Indefinable Things follows three teens as they struggle to comprehend love, friendship, and depression—and realize one definition doesn't always cover it.
About the Author
---
Whitney Taylor is a YA writer who only speaks one language--fangirl. When she's not devouring books, she spends here time taking selfies, obssesing over any TV show with a love triangle, and eating too much McDonald's. She's an English and Psychology major from Virginia who likes to pretend she's a supermodel from New York City. Visit her on Twitter @WhitneyTayy, and on Instagram @whitneytaylor4.
Praise For…
---
"...Offbeat romance, sarcastic humor, and the philosophy of life come together in a flying bildungsroman that is both touching and entertaining in its exploration of the internal conflicts of the human condition. With plain but evocative prose and a pair of ceaselessly endearing protagonists, Definitions of Indefinable Things is perfect for readers of middle school age and above." –VOYA "Taylor portrays depression with complexity in this authentic, often confrontational debut..." –Publishers Weekly "An emotionally engrossing and powerful exploration of depression and healing that many teens will find meaningful." –School Library Journal "A compelling exploration of mental illness." –Kirkus