The Brightsiders (Hardcover)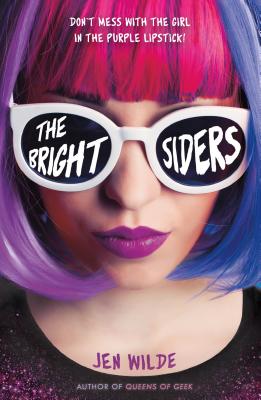 $23.79
Email or call for price.
Description
---
A teen rockstar has to navigate family, love, coming out, and life in the spotlight after being labeled the latest celebrity trainwreck in Jen Wilde's quirky and utterly relatable novel.

As a rock star drummer in the hit band The Brightsiders, Emmy King's life should be perfect. But there's nothing the paparazzi love more than watching a celebrity crash and burn. When a night of partying lands Emmy in hospital, she's branded the latest tabloid train wreck.

Luckily, Emmy has her friends and bandmates, including the super-swoonworthy Alfie, to help her pick up the pieces of her life. She knows hooking up with a band member is exactly the kind of trouble she should be avoiding, and yet Emmy and Alfie Just. Keep. Kissing.

Will the inevitable fallout turn her into a clickbait scandal (again)? Or will she find the strength to stand on her own?

Jen Wilde, author of Queens of Geek, which Seventeen called, "the geeky, queer book of our dreams" is back with a brand new cast of highly diverse and relatable characters for her fans to fall in love with.

Praise for Queens of Geek:

"The book deals head on with issues of mental health, body shaming, sexuality, and internet celebrity, handling them with a delicate and skillful touch." —Teen Vogue

"This fun book about fierce friendships gives voice to a group of diverse female characters who are so defined by so much more than just their mental health and sexuality." —Bustle

"This celebration of geek culture and fandom promotes diversity and being true to oneself." —School Library Journal
About the Author
---
Jen Wilde is a writer, geek and fangirl with a penchant for coffee, books and pugs. She writes YA stories about zombies (AS THEY RISE), witches (ECHO OF THE WITCH), fangirls (QUEENS OF GEEK), and rockstars (THE BRIGHTSIDERS). Her debut series reached over three million reads online and became an Amazon bestseller.

Born and raised in Australia, she splits her time between Melbourne and New York. When she's not writing, Jen loves binge-watching her favorite shows on Netflix, eating pizza, traveling to far away places and going to conventions in Marty McFly cosplay.
Praise For…
---
"The author adeptly captures the essence and confusion that young people may go through when trying to figure out their identities. This inclusive romance features multiple LGBTQ+ protagonists, including a nonbinary character who uses the pronouns they/them. ... Perfect for collections seeking high drama and romance." — School Library Journal

"Wilde (Queens of Geek, 2017) exchanges fandom for music here, but the characters and relationships she creates are every bit as strong. A recommended purchase, especially for collections looking for LGBTQ titles that aren't heavy-handed." —Booklist Online

Praise for Queens of Geek:

"Seeing girls and women uplifting, protecting, and loving each other is extremely powerful, especially in the context of fandom. The book deals head on with issues of mental health, body shaming, sexuality, and internet celebrity, handling them with a delicate and skillful touch." —Teen Vogue

"Jen Wilde's book about two best friends—one a bisexual young woman of color, the other a young [autistic] woman . . . dealing with anxiety—will be a favorite of anyone who is a fan of geek culture. . . . This fun book about fierce friendships gives voice to a group of diverse female characters who are so defined by so much more than just their mental health and sexuality." —Bustle

"The characters' diversity provides natural opportunities to explore a number of contemporary teen issues, including race, sexual orientation, feminism, and body image. Some of the most compelling chapters are told from the point of view of Taylor, who fears change, hates crowds, and is on the autism spectrum. . . . Part of Macmillan's crowdsourced imprint, this celebration of geek culture and fandom promotes diversity and being true to oneself." —School Library Journal