Eight Mindful Steps to Happiness: Walking the Buddha's Path (Meditation in Plain English) (Paperback)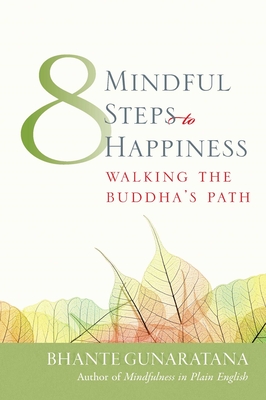 Description
---
From the best-selling author of Mindfulness in Plain English!

In his classic and engaging style, Bhante Gunaratana delves deeply into the noble eightfold path, the Buddha's most profound teaching on bringing an end to suffering.

With easy-to-understand and specific advice, Eight Mindful Steps to Happiness offers skillful ways to handle anger, find right livelihood, cultivate loving-friendliness, and overcome the mental hindrances that prevent happiness.

Whether you are an experienced meditator or someone who's only just beginning, this gentle and down-to-earth guide will help you bring the heart of the Buddha's teachings into every aspect of your life.
About the Author
---
Bhante Gunaratana was ordained at the age of twelve as a Buddhist monk in Sri Lanka, earned his PhD in philosophy from The American University, and has led meditation retreats, taught Buddhism, and lectured widely throughout the United States, Canada, Europe, and Australia. Bhante Henepola Gunaratana is the president of the Bhavana Society in High View, West Virginia, where he lives.
Praise For…
---
"Eight Mindful Steps to Happiness is the perfect companion to Mindfulness in Plain English. Written with the thoroughness and the masterful simplicity so characteristic of his teaching, Bhante Gunaratana presents essential guidelines for turning the Buddha's teachings on the Eightfold Path into living wisdom."
— Larry Rosenberg, author of Breath by Breath

"Bhante Gunaratana's wonderful new book is a practical and personal guide for those truly interested in what it means to be happy."
— Sharon Salzberg, author of Lovingkindness

"Clear and straightforward, the reader feels just how possible and practical it is to lead a happy life. Highly recommended."
— Joseph Goldstein, author of Insight Meditation