The Remembered Earth: An Anthology of Contemporary Native American Literature (Paperback)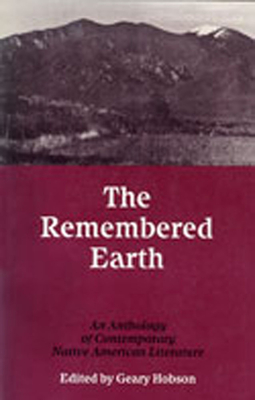 $51.94

Usually Ships in 1-5 Days
Description
---
Land is people. Remembering is all.
These themes pervade Geary Hobson's anthology of poetry, essays, and short stories by contemporary Native American writers. A Native American (Cherokee-Chickasaw), Hobson himself is a poet, short story writer, essayist, editor, university teacher, and ex-Marine. He knows this generation well: the writers he has selected, from the Atlantic coast to Hawaii, are for the most part young voices reaffirming the wisdom, In remembering, there is strength and continuance and renewal through the generations.
Originally published by the Red Earth Press of Albuquerque, this broad survey of the experience, renascence, and aesthetic of Native American writing today is incisive, reflective, moving, and provocative in its variety. Readers familiar with contemporary writing will recognize the names of Silko, Momaday, Hero, Allen, Brooches, and Rose among the nearly one hundred artists assembled here. Their poems, short stories, and especially their essays titled Imitation Indian Poems, The Man Made of Words, and The rise of the White Shaman, provide valuable statements of Native American writers' own assessment of their legacy within the larger context of Anglo-American life and literary traditions. Their works illumine the will to endure and to praise as it is revealed in on-Reservation and urban-landless Native American experiences.