The Queen of Cool (Hardcover)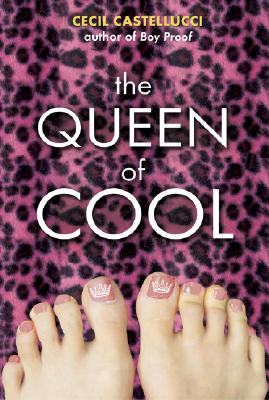 Description
---
The author of BOY PROOF is back with a funny, incisive look at a teenage girl whose reign of popularity comes at the price of ennui - until she dares to take off her tiara and do something truly cool with her life.

On the outside, Libby Brin is the most popular girl in school. She has the coolest friends, the hottest boyfriend, the trendiest clothes, and the hippest parents. But on the inside, Libby is dying - of boredom. In a moment of desperation, Libby signs up for an internship at the L.A. Zoo, much to the dismay of her friends, who'd prefer she spend her time with them, shopping, partying, and making fun of everyone else. To Libby, the zoo gig seems like something, anything, different to do, even if it means she has to work with two nerds - Tina (aka "Tiny"), a little person and aspiring actress, and Sheldon, an introverted boy with a brilliant, inquiring mind. But what happens when Libby realizes she actually enjoys working at the zoo and may even like Tina and Sheldon? Will the QUEEN OF COOL be forced to give up her crown?
About the Author
---
CECIL CASTELLUCCI is the author of the young adult novel BOY PROOF. She is also a writer, filmmaker, actress, and singer-songwriter, and engages in many, many other creative pursuits. She says, "Sometimes I feel cool and other times I feel like the biggest loser ever. So I started wondering, what would happen if everything you always thought was cool was suddenly lame? What would happen to you, if you were all of a sudden uncool? And what exactly is 'cool,' anyway? This story came out of a desire to figure it all out."
Praise For…
---
Ms. Lew, an aspiring actress who can hardly fake being interested in teaching us, places her hands on the back of her chair and sighs heavily.

I bet we are the closest thing she ever comes to having an audience.
She turns and writes the words Endangered Species on the board in dry erase marker. She's picked the color red. I can tell this is going to be a dramatic class.

"The world is in ecological crisis. Who can guess some of the causes for endangerment?" she asks.

A handful of kids in the front of the room raise their hands.

"Tina," Ms. Lew says as she calls on Tiny.

"Causes could include habitat loss, or the introduction of a new exotic species into the environment."

Showoff.

I wonder if Tiny has to sit in the front of the room because she can't see over anybody's head if she sits anywhere else. I wonder if that's why she always raises her hand. I wonder if the classroom looks different from the front of the room. I bet it's harder to not pay attention.

"Good, Tina." Ms. Lew says. "Anyone else? Libby? You have a look of deep thought on your face. Do you have anything to add?"

"Me?" I ask. I hate being singled out in class.

"No thoughts at all?"

"None I care to share," I say.

People laugh. Ms. Lew is not happy.

"How about overexploitation?" Sid calls out.

I turn to look at him as he acts the hero, thinking he's saved my ass. He hasn't. I could've come up with an acceptable answer. If I really wanted to.

"Good. How about some examples?" Ms. Lew says.

"Well, like people who think tiger bones will make them virile," Sid says.

People laugh. Louder.

I notice that Sid is not laughing. The word virile doesn't make him crack a smile.

"Excellent," Ms. Lew says, her mood brightening a bit. She probably feels good about her performance today.

She starts writing down a million notes on the board. Pulling down maps. Handing out info sheets. She is excited.

But me, I am ready for a nap.

I open my loose-leaf notebook, propping it up in front of me. Then I put my head down on the desk.

It smells like pencil and hand.

_______

THE QUEEN OF COOL by Cecil Castellucci. Copyright © 2006 by Cecil Castellucci. Published by Candlewick Press, Inc., Cambridge, MA.


From the Trade Paperback edition.