The Histories (Hardcover)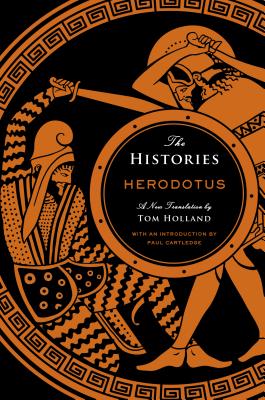 $40.00
Email or call for price.
Description
---
One of Western history's greatest books springs to life in Tom Holland's vibrant new translation
 
Herodotus of Halicarnassus—who was hailed by Cicero as "the father of history"—wrote his histories around 440 BC. It is the earliest surviving work of nonfiction and a thrilling narrative account of (among other things) the war between the Persian Empire and the Greek city-states in the fifth century BC.
 
With a wealth of information about ancient geography, ethnography, zoology, comparative anthropology, and much else, The Histories is also filled with bizarre and fanciful stories, which award-winning historian Tom Holland vividly captures in this major new translation—highlighting Herodotus's superb storytelling gifts and displaying his delightful curiosity alongside his flair for riveting epic drama. Featuring an introduction and notes by Professor Paul Cartledge, a translator's preface, an index of significant persons and places, maps, and a supplementary index, this translation makes Herodotus irresistible reading once more.
About the Author
---
Few facts are known about the life of Herodotus. He was born around 490 BC in Halicarnassus, on the southwest coast of Asia Minor.
 
Tom Holland is the acclaimed author of The Forge of Christendom, Rubicon, and Persian Fire and has adapted Herodotus, Homer, Thucydides, and Virgil for BBC Radio.
 
Paul Cartledge is A. G. Leventis Professor of Greek Culture at the University of Cambridge.
Praise For…
---
Praise for The Histories:
"Unquestionably the best English translation of Herodotus to have appeared in the past half-century…I am in awe of Tom Holland's achievement, and have no doubt it will bear rich fruit in bringing Herodotus to public attention"
– Edith Hall, Times Literary Supplement

"Lively, engaging version of the Histories…[an] admirable translation"
–The Economist

Praise for In the Shadow of the Sword:
"Written with flamboyant elegance and energetic intensity, Holland delivers a brilliant tour de force of revisionist scholarship and thrilling storytelling with a bloodspattered cast of swashbuckling tyrants, nymphomaniacal empresses and visionary prophets. The book is unputdownable."
—The Times of London

Praise for Rubicon:
"Tom Holland has produced in one volume the crispest and most compelling account of this momentous period I have ever read."
—The Seattle Times

Praise for Persian Fire:
"Excellent... Holland is a cool-headed historian who writes no less authoritatively and engagingly on classical Greece than he did on ancient Rome in his last book, Rubicon"
—Mary Beard, The Sunday Times