Firefight (Reckoners) (Prebound)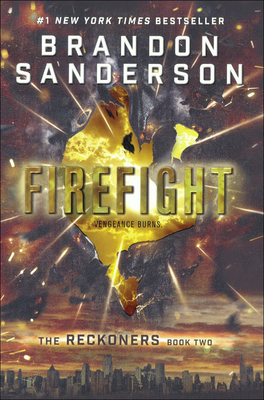 $30.52
Email or call for price.
Other Books in Series
Description
---
The #1 "New York Times" bestseller and sequel to "Steelheart" a novel that James Dashner called fantastic. Brandon Sanderson, the author of "Words of Radiance," coauthor of Robert Jordan's The Wheel of Time series, and creator of the internationally bestselling Mistborn trilogy, presents the second book in the Reckoners series: "Firefight." And don t miss "Calamity," the exciting conclusion to the Reckoners series coming soon
David Charleston has lived for one purpose: to kill Steelheart, the supremely powerful, seemingly invincible Epic who murdered his father. Now Steelheart is dead and David is beginning to question everything that he and the world understands about the superhumans they call Epics.
David's suspicions are the reason he follows Prof to the flooded city once known as New York. But what he finds there could be what ultimately ends him. The truth might just burn deepest of all. . . .
Praise for the Reckoners Series:
"The suspense is relentless and the climax explosive." James Dashner, #1 "New York Times" bestselling author of the Maze Runner series
Another win for Sanderson . . . he's simply a brilliant writer. Period. Patrick Rothfuss, author of the "New York Times" and "USA Today" bestseller "The Name of the Wind"
STAR] Snappy dialogue, bizarre plot twists, high-intensity action, and a touch of mystery and romance . . . leaves readers] panting for the sequel. "Booklist, " Starred
"Action-packed." EW.com
Compelling. . . . Sanderson uses plot twists that he teases enough for readers to pick up on to distract from the more dramatic reveals he has in store. The A.V. Club
An absolute page-turner." "Publishers Weekly
""A straight-up Marvel Comics-style action drama." "Kirkus Reviews.
About the Author
---
Brandon Sanderson is the author of the #1 "New York Times" bestsellers "Steelheart "and "Firefight," the first two books in the Reckoners series, and the internationally bestselling books in the Stormlight Archive and the Mistborn trilogy. He was also chosen to complete Robert Jordan's The Wheel of Time series. His books have been published in more than twenty-five languages and have sold millions of copies worldwide. He lives and writes in Utah. To learn more about Brandon and his books, visit him at brandonsanderson.com and follow @BrandSanderson on Twitter. "From the Hardcover edition."