King Richard II (Dover Thrift Editions) (Paperback)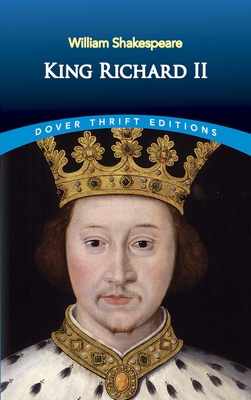 Description
---
Not all the water in the rough rude sea/Can wash the balm off from an anointed king, declares the soon-to-be deposed ruler of this historical drama. Confident in his divine right, Richard II is an ineffective and unpopular king who abuses his power and sows the seeds of his own downfall. Toppled from the throne by Henry, his ambitious cousin, Richard only learns to value kingship after he loses it, achieving a tragic dignity only with his downfall.
The first play in Shakespeare's Henriad series -- followed by Henry IV, Parts I and II, and Henry V -- Richard II portrays intense psychological struggles as well as a taut political drama. The only one of Shakespeare's plays written entirely in verse, it offers a grand, lyrical allegory and a poignant exploration of character.

About the Author
---
He was not of an age, but for all time, declared Ben Jonson of his contemporary William Shakespeare (1564-1616). Jonson's praise is especially prescient, since at the turn of the 17th century Shakespeare was but one of many popular London playwrights and none of his dramas were printed in his lifetime. The reason so many of his works survive is because two of his actor friends, with the assistance of Jonson, assembled and published the First Folio edition of 1623.