The Fashion Committee (Hardcover)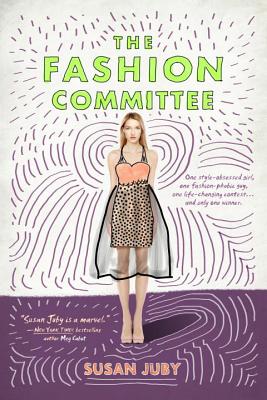 Description
---
"The Fashion Committee is another winner by one of my all time favorite authors."--Meg Cabot, New York Times bestselling author of the The Princess Diaries and Mediator series

Charlie Dean is a style-obsessed girl who eats, sleeps, and breathes fashion. John Thomas-Smith is a boy who forges metal sculptures in his garage and couldn't care less about clothes. Both are gunning for a scholarship to the private art high school that could make all their dreams come true. Whoever wins the fashion competition will win the scholarship—and only one can win.

Told in the alternating voices of Charlie's and John's journals, this hilarious and poignant YA novel perfectly captures what it's like to have an artistic drive so fierce that nothing—not your dad's girlfriend's drug-addicted ex-boyfriend, a soul-crushing job at Salad Stop, or being charged with a teensy bit of kidnapping—can stand in your way.

With black and white art custom-created by fashion and beauty illustrator Soleil Ignacio, the book is a collector's item, perfect for anyone with a passion for fashion.
About the Author
---
Susan Juby (www.susanjuby.com) has written seven novels for teenagers. The most well-known is Alice, I Think, the first of the Alice MacLeod trilogy, which was made into a successful television series. She is also the author of a memoir, Nice Recovery, and the adult comic novel The Woefield Poetry Collective; the sequel, Republic of Dirt, has just been published in Canada. She is currently working on a second novel about the Green Pastures Academy of Art and Applied Design.
     Susan Juby lives in Nanaimo, BC, Canada, the setting for most of her books.
Praise For…
---
PRAISE FOR The Fashion Committee:

* "Filled with hilarious and tragic moments alike, Juby's . . . vibrant novel thoroughly explores the hearts, souls, and minds of two very different teens." --Publishers Weekly, starred review

* "The cleverly deceptive title, cover art, and opening pages belie the strength of the protagonists' personalities as well as the tragic elements that have shaped their lives and define the story."--School Library Journal, starred review 

"Entertaining, smart, and inspiring." --Kirkus Reviews

"Tailored to perfection for readers who love to laugh and look good doing it."--The Globe and Mail

"Charlie is perhaps Juby's finest character to date, not just seriously inventive, buoyant and insightful in fashion sense and philosophy, but also a poignant testament to the resilience of a girl determined to live well despite her parent's struggle with addiction."--The Star

"Expect hilarity." --Quill & Quire

PRAISE FOR The Truth Commission:

"With a deft hand and an open mind, Juby presents many layers of truth. This is a sharp-edged portrait of a dysfunctional family with some thought-provoking ideas about what is real." --Starred Review, Publishers Weekly

"A surprising, witty, and compulsive read." --Starred Review, School Library Journal

"Hilarious, deliciously provocative and slyly thought-provoking." --Starred Review, Kirkus 

"Juby's bright dialogue and vivid, appealing characters draw readers along as the three young artists navigate truths both light and dark, discovering themselves in the process." --Starred Review, The Horn Book