The Game of Hope (Hardcover)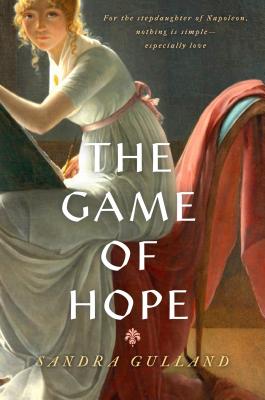 Description
---
For Napoleon's stepdaughter, nothing is simple - especially love.

Paris, 1798. Hortense de Beauharnais is engrossed in her studies at a boarding school for aristocratic girls, most of whom have suffered tragic losses during the tumultuous days of the French Revolution. She loves to play and compose music, read and paint, and daydream about Christophe, her brother's dashing fellow officer. But Hortense is not an ordinary girl. Her beautiful, charming mother, Josephine, has married Napoleon Bonaparte, soon to become the most powerful man in France, but viewed by Hortense at the outset as a coarse, unworthy successor to her elegant father, who was guillotined during the Terror.

Where will Hortense's future lie? it may not be in her power to decide.

Inspired by Hortense's real-life autobiography with charming glimpses of life long ago, this is the story of a girl destined by fate to play a role she didn't choose.
About the Author
---
Sandra Gulland is an American-born Canadian novelist specializing in historical fiction. She is the author of the internationally bestselling trilogy of adult books based on the life of Josephine de Beauharnais Bonaparte, as well as two novels set at the court of Louis XIV, the Sun King. Her books have been published in sixteen countries, translated into thirteen languages, and sold more than a million copies worldwide.
Praise For…
---
"Gulland, who's clearly done her research, includes plenty of documentedmoments and people from Hortense's life, which cultivates a rich sense of atmosphere . . . een fans of historical fiction fascinated by the period will findplenty to appreciate here." -Booklist

"For history buffs." -Kirkus