And the Trees Crept In (Paperback)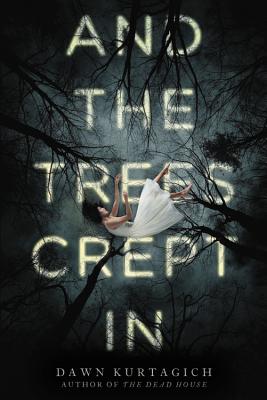 Description
---
When Silla and Nori arrive at their aunt's home, it's immediately clear that the "blood manor" is cursed. The creaking of the house and the stillness of the woods surrounding them would be enough of a sign, but there are secrets too--the questions that Silla can't ignore: Who is the beautiful boy that's appeared from the woods? Who is the man that her little sister sees, but no one else? And why does it seem that, ever since they arrived, the trees have been creeping closer?
Filled with just as many twists and turns as The Dead House, and with achingly beautiful, chilling language that delivers haunting scenes, AND THE TREES CREPT IN is the perfect follow-up novel for master horror writer Dawn Kurtagich.
About the Author
---
Dawn Kurtagich is a young writer of psychologically sinister fiction, and she has a dark and twisted imagination! She lives in Wales, an ancient and mountainous country within the UK (go to England's Midlands and turn left towards the sea). However, she grew up all over the world, predominantly in Africa. She writes and blogs for YA Scream Queens and is a member of the YA League. She is the author of The Dead House and its companion novella, The Dead House: The Naida Tapes.
Praise For…
---
Praise for And the Trees Crept In:
* "Kurtagich's horror imagery is satisfying and affecting--her descriptions of the day-to-day decay the girls face are as rich and scary as the monstrous man who scuttles around on all fours and the teeming mud pits that are waiting in the woods. A great next read for teens who enjoy being scared."
—
School Library Journal (starred review)
*"Kurtagich evokes an all-pervading atmosphere of horror with dark imagery and language evoking rot, decay, and death....This unique novel is for teens who enjoy being immersed in a dark, complex horror story."
—
VOYA, starred review
"Will haunt readers with its raw emotions, palpable pain, and consistent character voices... Frightening and compelling, this gothic will easily sweep fans up into its creeping sense of hysteria."
—
Kirkus Reviews
"A thought-provoking exploration of familial legacy and the sibling bond... Readers will find it hard to look away from this genuinely frightening story, as the sisters' sanctuary becomes a nightmare."
—
Publishers Weekly
"And the Trees Crept In should come with a warning label: Best read in the light of day, with lots of smiling people around, and candy canes and unicorns and cute babies. A beautifully written, gorgeous nightmare of a novel."
—
David Arnold, author of Mosquitoland and Kids of Appetite
"An enthralling, unsettling fairy tale that will have you turning pages long into the night."
—
Michelle Zink, author of This Wicked Game and Lies I Told
"Dark, twisted, and terrifying,
And the Trees Crept In
will keep your stomach in knots from page one. A must-read for horror fans everywhere!"—
Susan Dennard, author of Truthwitch
"Dawn Kurtagich lulls her readers into a world of nightmares in this brilliant follow-up to
The Dead House
.
And the Trees Crept In
is a terrifying, lyrical journey into the darkest abyss, and one that will haunt me for a long time."—
Kat Ellis, author of Blackfin Sky
"A fight for survival, an encroaching forest, a cursed manor, and dark secrets... Kurtagich's terrifying take wrapped my heart up and squeezed until I was as cold as the dead things haunting its pages."
—
Alexandra Sirowy, author of The Creeping
"Horror fans will delight in the grotesque poetry of this historical-feeling contemporary spine-chiller featuring a monumental twist ending. Not for the squeamish."
—
Booklist
"Horror fans will be caught by the gripping cover image, and there's plenty to scare them here, even during the second reading that the surprise ending might encourage them to undertake."
—
The Bulletin of the Center for Children's Books
Praise for The Dead House:
"What an evil and original story. You can't stop reading Kaitlyn's diary. But is she real? It's a mystery inside a mystery--and the shocks keep coming. Scary stuff!"
—
R.L. Stine, author of the Goosebumps and Fear Street series
"
The Dead House
is a seamless blend of the supernatural and the psychological. Creepy, compelling, and
compulsively
readable."—
Victoria Schwab, author of The Archived and Vicious
"Full of twists, buried secrets, and enough disturbing corpses to please the most discerning horror lover,
The Dead House
is a thoroughly engrossing read. Diary entries, psychiatrist records, and transcripts from the investigation keep the pages turning late into the night. This is a harrowing tale, cleverly told."—
Kendare Blake, author of Anna Dressed in Blood
"All I could think when I finished
The Dead House
was that the author, Dawn Kurtagich, has an amazing mind. Creepy, but amazing. I loved it."—
Christopher Pike, bestselling author of Thirst
"Kurtagich weaves a terrifying and mind-bending tale reminiscent of H.P. Lovecraft. This is one of the best horror debuts I've read in a long time!"
—
J.R. Johansson, author of Cut Me Free and The Night Walker series
"Not for the faint of heart, this is a gory and grimly compelling story, made more so by the novel's visual elements."
—
Booklist
"This creepy boarding school novel meshes real world issues with a paranormal mystery in a fun but scary debut... Fans of horror novels will appreciate the creepy photographs scattered throughout, and the multiple perspectives are smoothly integrated... A worthy addition to high school horror collections."
—
School Library Connection
"Told through a retrospective collection of found evidence surrounding the deaths of several students in a boarding school fire, Kurtagich's debut novel is deeply disturbing and fraught with emotion."
—
Publishers Weekly
"Kurtagich maintains the creepy and dark tone through to the end, where readers are not given a neat, tidy ending--the ghosts still haunt, pieces of the story remain missing, and life goes on despite the terrible tragedy at the prestigious Elmbridge High School."
—
VOYA