Radical Tragedy: Religion, Ideology and Power in the Drama of Shakespeare and his Contemporaries, Third Edition (Paperback)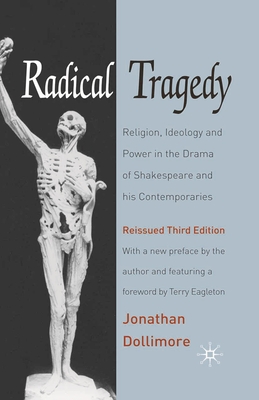 $54.54
Email or call for price.
Description
---
Radical Tragedy is a landmark study of the drama of Shakespeare and his contemporaries and a classic of cultural materialist thought. The reissued third edition features a candid and inspiring new Preface by the author in which he explains his reasons for excluding Othello from his original discussion. The main text has also now been corrected.
About the Author
---
JONATHAN DOLLIMORE was formerly Professor of English at the University of York, UK. His books include Political Shakespeare: Essays in Cultural Materialism (with Alan Sinfield, 1985, 2nd ed 1994), Sexual Dissidence: Augustine to Wilde, Freud to Foucault (1991), Death, Desire and Loss in Western Culture (1998), and Sex, Literature and Censorship (2000).
Praise For…
---
Praise for the third edition: "I put this book right at the top. I read it with excitement and sustained interest throughout." —David Bevington, University of Chicago
"Some critical studies are full of insight, but not many of them are necessary. Radical Tragedy ranks among the necessary critical interventions of our time." —From the Foreword by Terry Eagleton

"Prefaced by a powerful, provocative essay that brings its argument bang up to date, this splendid new edition of Radical Tragedy puts its status as a classic of cultural-materialist criticism beyond question." —Kiernan Ryan, Royal Holloway University of London

"A welcome new edition of a path-breaking book complete with a brilliantly incisive and thought-provoking Introduction that will enthuse a new generation of students. With an iconoclastic energy all too rare in academic circles, Dollimore fearlessly revalues his own project, and poses questions central to the larger critical, cultural and philosophical debates within English Studies, to which Radical Tragedy continues to make a major scholarly contribution." —John Drakakis, University of Stirling
Reviews of second edition:

"[An] outstanding piece of scholarship. Very useful, very influential, very well-written. In short, well worth having." —Amazon.co.uk

"Stands as a major re-interpretation of Renaissance drama and a pioneering critical work." —Book News

"An indispensable addition to an already indispensable book, which throws new light on the genisis of Radical Tragedy and upon the full range of interdisciplinary concerns which have acted both as a stimulus to, and as the rigorous intellectual mainstays of, its revolutionary thesis." —John Drakakis, University of Stirling

"A courageous, stimulating book which everybody interested in its subject must read." —Christopher Hill, Literature and History