Penguin Classics Gift Set: The Best of Indian Heritage (Hardcover)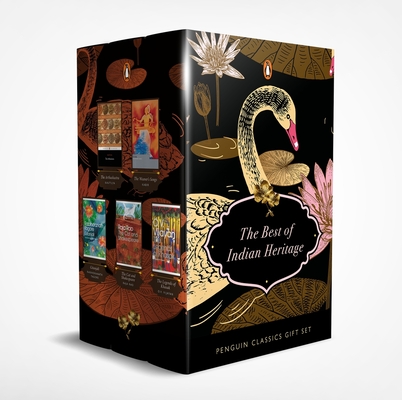 $60.00

Usually Ships in 1-5 Days
Description
---
Indian culture has been shaped by centuries of wisdom and a vast expanse of writing. This special Penguin gift set brings together momentous, time-honoured books that capture the essence of Indian heritage. Learn the ancient art of statecraft from master strategist Kautilya and drink deep from the profound mystical wisdom of Kabir. Savour the poetic beauty of Rabindranath Tagore and indulge in metaphysics and philosophy with Raja Rao, while wandering through the bewitching world of O.V. Vijayan.

This collection is a must-have for anyone enamoured by India's rich cultural and literary legacy.

The titles included in the set are The Arthashastra, Kabir: The Weaver's Songs, Gitanjali, The Cat and Shakespeare, and The Legends of Khasak.
About the Author
---
Kautilya was an ancient India teacher, philosopher, economist, jurist, and royal advisor. He is considered the pioneer of the field of political science and economics in India, and his work is thought of as an important precursor to classical economics. One of India's greatest mystics, Kabir (1398-1448) was also a satirist and philosopher, and a poet of timeless wit and wisdom. Rabindranath Tagore (1861-1941) was a Bengali poet, writer, composer, philosopher, and painter. He became in 1913 the first non-European as well as the first lyricist to win the Nobel Prize in Literature. Raja Rao (1909-2006), a path-breaker of Indian writing in English, was born in Hassan, Mysore. He moved to the United States in 1966, where he taught at the University of Texas at Austin until 1983, when he retired as emeritus professor. A powerful and profound writer and a superb stylist, Rao successfully and imaginatively appropriated English for the Indian narrative. He was honoured with India's second-highest civilian award, the Padma Vibhushan, in 2007, the Sahitya Akademi Award in 1964, and the Neustadt International Prize for Literature in 1988. Ottupulackal Velukkuty Vijayan (2 July 1930-30 March 2005), commonly known as O. V. Vijayan, was an Indian author and cartoonist, who was an important figure in modern Malayalam language literature.