Free to Fall (Paperback)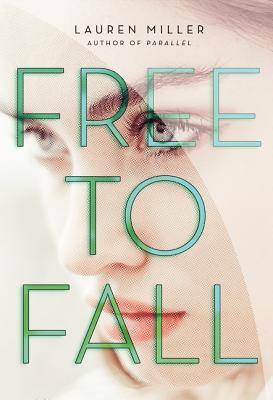 Description
---
From the author of Parallel comes a high-stakes romantic puzzler set in a near-future where everyone's life is seamlessly orchestrated by personal electronic devices, perfect for fans of Black Mirror.
Fast-forward to a time when Apple and Google have been replaced by Gnosis, a monolith corporation that has developed the most life-changing technology to ever hit the market: Lux, an app that flawlessly optimizes decision-making for the best personal results.
Just like everyone else, sixteen-year-old Rory Vaughn knows the key to a happy, healthy life is to follow what Lux recommends. When she's accepted to the elite boarding school Theden Academy, her future happiness seems all the more assured.
But once on campus, something feels wrong beneath the polished surface of her prestigious dream school. Then she meets North, a handsome townie who doesn't use Lux, and begins to fall for him and his outsider way of life.
Soon Rory is going against Lux's recommendations, listening instead to the inner voice that everyone has been taught to ignore—a choice that leads her to uncover a truth neither she nor the world ever saw coming.
Imaginative and thrilling, this fast-paced story with two starred reviews is not to be missed!
"Miller offers an intricately plotted, intellectually rich thriller that will please a range of readers, from those searching for a page-turner to those wishing to thoroughly engage the mind." —Publishers Weekly (starred review)
"Engaging and thought-provoking, Free to Fall should appeal to a variety of readers with its blend of action, secrecy, and romance, and it provides excellent discussion opportunities." —School Library Journal (starred review)
About the Author
---
Lauren Miller is an entertainment lawyer and television writer. She lives in Los Angeles with her husband and two kids.
Praise For…
---
Miller (Parallel) offers an intricately plotted, intellectually rich thriller that will please a range of readers, from those searching for a page-turner to those wishing to thoroughly engage the mind.
— Publishers Weekly (starred review)

Engaging and thought-provoking, Free to Fall should appeal to a variety of readers with its blend of action, secrecy, and romance, and it provides excellent discussion opportunities.
— School Library Journal (starred review)

Miller smartly doesn't exchange strong, involving characters for nonstop action—there's plenty of both.
— Booklist

Praise for PARALLEL: "A fun, twisty novel about the paths you choose and the paths you don't…to follow your heart's desire. Deeply romantic and entertaining!"
— Melissa de la Cruz, NEW YORK TIMES bestselling author of BLUE BLOODS and WITCHES OF EAST END

"Penetrating, jaw–dropping, and so real, PARALLEL had me turning pages at warp speed, hoping for the best tomorrow. Read this book."
— Huntley Fitzpatrick, author of MY LIFE NEXT DOOR

"Best. Debut. Novel. Ever."
— Lauren Barnholdt, author of TWO–WAY STREET

"PARALLEL beautifully tackles the universal themes of fate, destiny, and the search for a soulmate, proving that there are no wrong turns. Your heart will soar and you'll be cheering at the end."
— Jordanna Fraiberg, author of IN YOUR ROOM

"Wildly inventive and wonderfully romantic, PARALLEL takes readers on a journey that will open their minds and their hearts."
— Jennifer E. Smith, author of THE STATISTICAL PROBABILITY OF LOVE AT FIRST SIGHT

"Thought–provoking, romantic, and so, so smart, PARALLEL is an absolute must–read for anyone and everyone who has ever wondered, What if?"
— Anna Jarzab, author of ALL UNQUIET THINGS

"An intricately–woven story about free will, parallel universes, and cute boys. Miller nails the inner snark of the high school senior, as well as the confusion of figuring out just where your life is supposed to be headed."
— Kat Zhang, author of WHAT'S LEFT OF ME