Across a Star-Swept Sea (Stars #2) (Paperback)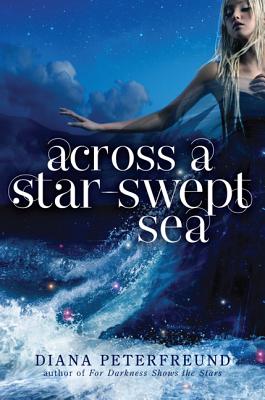 Description
---
From Rampant and Ascendant author Diana Peterfreund comes this thrilling companion to For Darkness Shows the Stars, now in paperback. Across a Star-Swept Sea is a romantic science-fiction reimagining of the classic The Scarlet Pimpernel.
Centuries after wars nearly destroyed civilization, the islands of Galatea and Albion stand alone, a paradise where even the Reduction—the devastating brain disorder that sparked the wars—is a distant memory. Yet on Galatea, an uprising against the aristocracy has turned deadly. The revolutionaries' weapon is a drug that damages their enemies' brains, and the only hope is a mysterious spy known as the Wild Poppy. On neighboring Albion, no one suspects that the Wild Poppy is actually famously frivolous teenage aristocrat Persis Blake. Her gossipy flutternotes are encrypted plans, her pampered sea mink is genetically engineered for spying, and her well-publicized new romance with handsome Galatean medic Justen Helo . . . is her most dangerous mission ever.
When Persis discovers that Justen is keeping a secret that could plunge New Pacifica into another dark age, she realizes she's not just risking her heart, she's risking the world she's sworn to protect.
About the Author
---
Diana Peterfreund is the author of many books for adults and children, including the critically acclaimed For Darkness Shows the Stars and Across a Star-Swept Sea. She lives with her family outside Washington, DC, in a house full of bookshelves, and is always on the lookout for lost cities or stray rocket ships.
Praise For…
---
"[A] mysterious spy adventure in a lush and terrifying futuristic world"
— Voice of Youth Advocates (VOYA) (starred review)

"A charming bit of light adventure"
— Publishers Weekly

"A good bet for readers looking for strong female protagonists, characters of color or just an enjoyable romantic adventure with a science-fiction spin."
— Kirkus Reviews

"Peterfreund's novel is riveting and intense...Readers will love this page-turning story and its dramatic climax."
— Romantic Times

"Engrossing and fastpaced."
— Booklist

"Complex in both plotting and themes, this science fiction revision of The Scarlet Pimpernel offers political intrigue, narrow escapes, and forbidden romance"
— Bulletin of the Center for Children's Books

"A well-paced story led by a strong and likable heroine."
— School Library Journal

"Across a Star-Swept Sea is, like its main character Persis Blake, a delight. Intrigue, romance, beautiful world-building, nuanced characters, and timely, intriguing questions come together to make this the perfect read. I loved it!"
— Allie Condie, #1 New York Times bestselling author of the Matched trilogy

"An imaginative and energetic retelling of The Scarlet Pimpernel—sheer fun!"
— Lauren Willig, New York Times bestselling author of the Pink Carnation series

"Delicious romance, class warfare, and genetic engineering—Diana Peterfreund will ensnare you with this sci-fi twist to a classic story."
— Cinda Williams Chima, best-selling author of the Heir Chronicles and Seven Realms series

Praise for FOR DARKNESS SHOWS THE STARS: "This novel is a postapocalyptic retelling of Jane Austen's Persuasion that will be a hit with fans of sci-fi romances … Readers will keep turning the pages right up to the end."
— School Library Journal (starred review)

Praise for FOR DARKNESS SHOWS THE STARS: "A richly envisioned portrait of a society in flux, a steely yet vulnerable heroine, and a young man who does some growing up."
— Publishers Weekly

Praise for FOR DARKNESS SHOWS THE STARS: "A post-apocalyptic retelling of Jane Austen's Persuasion scores high for ingenuity."
— Kirkus Reviews

Praise for FOR DARKNESS SHOWS THE STARS: "Diana Peterfreund's For Darkness Shows the Stars is an impassioned ode to Jane Austen, love, and the hope found in stars."
— Beth Revis, New York Times bestselling author of ACROSS THE UNIVERSE and A MILLION SUNS

Praise for FOR DARKNESS SHOWS THE STARS: "Don't you love it when a brilliant idea meets with brilliant execution? Thank you, Diana Peterfreund for giving us a post-apocalyptic Persuasion. This book is meltingly good."
— Laini Taylor, National Book Award Finalist for LIPS TOUCH: THREE TIMES

Praise for FOR DARKNESS SHOWS THE STARS: "A beautiful, epic love story you won't be able to put down!"
— Simone Elkeles, New York Times bestselling author of the Perfect Chemistry series

Praise for FOR DARKNESS SHOWS THE STARS: "A smart and sexy tale of star-crossed love that's as thought-provoking as it is heartbreaking."
— Robin Wasserman, author of THE BOOK OF BLOOD AND SHADOW